Elevate your email security to the cloud and stop spam and viruses for good.
Let our team of email security experts protect your users around the clock.
Block bad email from reaching users
Inbound/Outbound protection from harmful spam, viruses, and malware
Total email security
​
CloudFilter stops the junk and lets the good email through. Messages containing offensive, harmful, or policy violating content are held for user review, while good messages continue on their way. CloudFilter keeps users safe in an ever-changing email threat landscape and gives you confidence that you're email infrastructure is shielded from harm.
Comprehensive logs reduce admin frustration
​
Comprehensive logs reduce admin frustration
With detailed administrator logs, CloudFilter makes the filtering process transparent to let you see critical information related to message scoring and classification. Detailed analytics and transport timeline give you a peek under the hood, so you can see exactly why a message was held and quickly identify issues.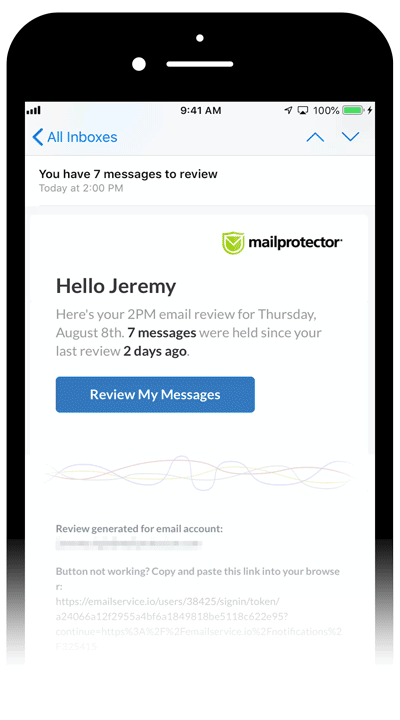 Next-level user message review
Gives users smarter tools so they're better protected
Customizeable notification schedule
​
Users get message review notifications at the interval that works for them. Whether they want them every hour, never, or anything in between... the choice is theirs.
​
​
Preview content in a safe environment
​
CloudFilter lets users preview the HTML content of a message (images optional) so they can determine whether or not it's a message they wish to receive in their inbox without risking a malware infection or phishing attack.
​
​
Clear explanations of scoring
​
Each message has an analytics section which shows data related to the reasons a message was held, where it came from, and even a map showing the point of geographic origin.
​
Message delivery timeline
​
There's also a timeline section, so it's clear to see the path of a message during it's lifetime and quickly identify areas where delivery was delayed or interrupted.
Quickly allow or block a sender
​
No forms or popup windows
​
CloudFilter lets users easily add a sender to their list of allowed or blocked address in one simple step right from their message preview. It's quick, easy, and helps ensure that users receive exactly the email they want in their inbox.
View your email traffic at a glance
Experience visually rich statistics at the account, domain, and user levels